Victorian Tea Times in Arklow, Co. Wicklow was up and running for approx. 6 months before I was engaged to do a PR campaign. It was struggling to gain any visibility.

It is a unique place and my campaign centered on making it a destination venue for people across the country to come and enjoy Afternoon Tea in a setting of the bygone Victorian era.
I met with owner, Audrey, and listened to her story of establishing Victorian Tea Times and her vision for the future of the business.
I listed three main area in which I would work; Introductory press release, media introductions and Press open day.
I would be targeting lifestyle and food Journalists mostly but also saw angles for fashion ( as it could be a set for shoots), business, and of course tourism.
Journalists used the release and pieces ran in several media outlets almost immediately including Irish Examiner, Star, Sunday World, Independent, Wicklow People and the Mail on Sunday which sent a Journalist down to the venue to do a story.
This was really important as it gave it huge visibility as they ran a full page with lots of colourful photos.
I then organised several local radio interviews where Audrey and her Granddaughter Karla, who sings Opera at Soirees at the venue, arrived in full Victorian regalia. This was great for impact and for social media.
I then held a Press open day, inviting key local and national Press,as well as local Business people and Politicians , and one of the main feature writers of the Sunday Independent agreed to come with a fellow Journalist and friend who appears regularly on Virgin Media and who has excellent contacts in media and business circles.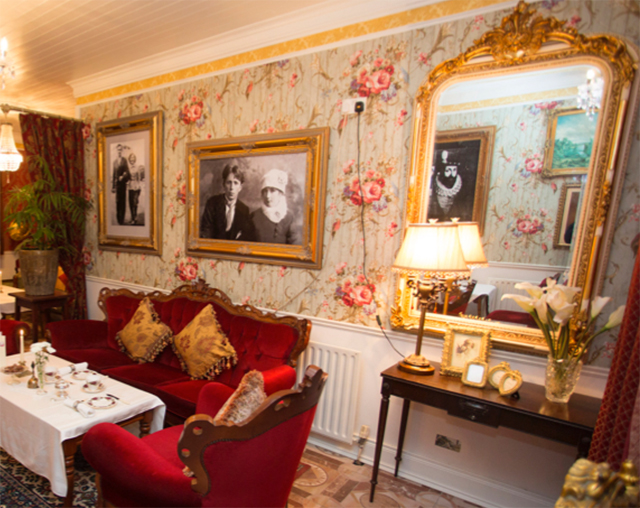 I then sent release to the local media following the event with lots of good images and they ran the story. Local media had previously highlighted the fact the event was happening.

Many Journalists who couldn't make it to Arklow subsequently ran a piece on it ; it was covered in Irish Times, Easy Food, RTE Guide, Sunday Business Post , RTE online for Halloween, Wedding magazines for refined hen events and pre wedding /anniversary/mother /daughter get togethers.

The Sunday Independent followed up the event by featuring Audrey and Grandaughter, Karla, in its hugely popular 'Bondings' section. This was a half page story in the Sunday Independent.
As I am a PR who really works for her clients ,constantly thinking of new angles for them, I pitched the venue to a Journalist in the Business section of the 'Sunday Independent'; the angle was strong enough and I secured an interview for Audrey which ran to almost a full page with the Sunday Independent on the 'Local Hero's' slot.This was just amazingly successful and as Audrey said she actually saw herself as a "serious business woman after that". This kind of PR is 'gold dust' for clients and Audrey received huge profile with lots of website hits, calls and bookings. It helped to give her huge credibility. Victorian Tea Times is now on people's radar as a destination venue and crucially Journalists know about it and stylists know about it as do film set location scouts as it would be ideal for any production companies looking for a set for drama.
This is just a very condensed representation of the Public Relations that 'Get It Across PR and Communications' did for this client and as a direct result Audrey and her and her gorgeous venue have been exposed to a market she couldn't have reached. My work gave her visibility ,credibility and ultimately profitability.